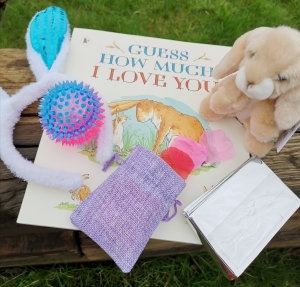 Take your baby on a sensory storytelling adventure from the comfort and safety of your home. You don't need to attend our classes to join in with the fun. Our sensory baby and toddler gifts are packed with baby development toys which bring brilliant books to life and stimulate the senses to support sensory development, physical development and cognitive development. All of the fab goodies can be used time and time again in open ended play by babies and toddlers all the way up to older pre school children.
Our sensory storytelling adventure bags and baby sensory toys also make great gifts for your newborn baby, bigger babies, first birthday gift, toddlers and pre school age children.
We also have a facebook shop!