Adventure Babies classes in Bristol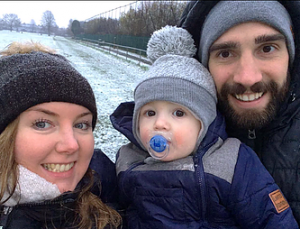 Contact Details
Email: kirsty@adventurebabies.co.uk
Tel: 07807000529
Hello!
We are Kirsty and Jacob and we are happy to announce that we have taken over Adventure Babies Bristol. 😊
We are also the proud parents of Zachary who joined us in January 2017 and are also expecting another addition to our growing family in May… we are all very excited to meet Zachary's little Brother or Sister!
The stories are all carefully chosen, engaging and fun! The sensory props are amazingly unique to each book, messy and great learning tools. The atmosphere is both friendly and relaxed and a lovely environment to be a part of. We have enjoyed attending just as much as Zachary. Adventure babies is a welcome release for parents from the daily life of nappies and feeds and a chance to meet other parents. Whilst seeing your child have a great time, meet new little friends, and develop in front of your eyes. We would recommend them to any parent. We loved the classes so much we decided to make Adventure Babies our new adventure.
Before becoming Zachary's mum, I had a background in the legal profession and in teaching. Working with a range of individuals in many different environments, all of which I enjoyed in their own unique way. From working with Asylum seekers, teaching English at Bristol Prison, to tutoring Maths and English to adults and children of all ages. I love meeting a range of people, love to read and have seen first hand the benefits reading can have on us all.
Jacob, Zachary's father is a keen footballer, playing both himself and having coached children and young adults. Jacob is an extremely hands on daddy and whenever he gets the opportunity he takes Zachary along to as many classes as he can.
We both love Storytime and we often find ourselves playing rock, paper, scissors in the evening to determine who gets to read Zachary's bedtime stories and who gets to do the washing up!! We also both want to spend as much time as we can with our children and share the joy of bringing them up. As such coming on board with Adventure Babies will allow us to achieve a work/life balance.
Read More
If a class has already started, don't worry, we won't charge you for the sessions that have passed.