Adventure Babies classes in Bristol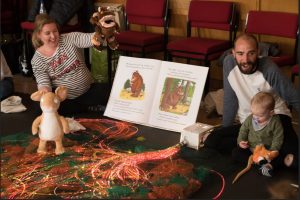 Contact Details
Email: kirsty@adventurebabies.co.uk
Text: 07807000529
Hello!
We are Kirsty and Jacob and together we run Adventure Babies Bristol. 😊
We are also the proud parents of our own two little adventurers Zachary who joined us in January 2017 and Sylvie who joined us in May 2018!
We first discovered Adventure Babies when Zachary was just 3 months old, we all absolutely loved the sessions and attended the Bristol Westbury-on-Trym sessions right up until we took over in April this year. We attended many baby groups, but Adventure Babies was always our favourite due the variety each session included and the fun & friendly atmosphere. Hence, we loved it so much we decided to take the leap and take over from amazing founder Emma.
Before becoming mama, I had a background in the legal profession and in teaching and Jacob is a keen footballer, playing both himself and having coached children and young adults as well as working within finance. We decided that we both want to spend as much time as we can with our children and share the joy of bringing them up. As such coming on board with Adventure Babies allows us to achieve this work/life balance.
We are the original interactive story telling sensory group and were voted Best for Babies in Bristol 2018!
Our stories are all carefully chosen, engaging and fun! The sensory props are amazingly unique to each book and great learning tools. The atmosphere is both friendly and relaxed and a lovely environment to be a part of. Adventure babies is a welcome release for parents from the daily life of nappies and feeds and a chance to meet other parents. Whilst seeing your child have a great time, meet new little friends, and develop in front of your eyes.
Please come along and join us on our adventures!!
Kirsty & Jacob
Class Timetable:
Monday – Coming Soon
Tuesday – Southville
Wednesday – Westbury-on-Trym
Thursday – Clifton
Friday – Patchway & Southville
Read More
If a class has already started, don't worry, we won't charge you for the sessions that have passed.