Adventure Babies classes in Warrington & Frodsham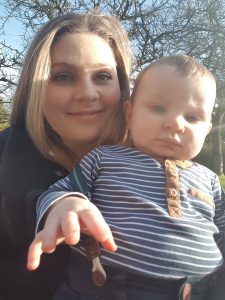 Hi, I'm Jo and I'm really excited to be bringing Adventure Babies story & sensory adventures to Warrington and Frodsham.
I started reading to my son when he was new born. I purchased a boxset of Roald Dahl books (a favourite from my childhood) and I began reading all my favourite stories to him. I realised how much it relaxed me and him to take time out together and enjoy a story. Once we started venturing out and about I always gravitated towards baby story sessions and when Adventure Babies was recommended to me by a friend I knew we would love it. From the first session we enjoyed the interactive stories and messy play that I didn't have to clean up after!
​My son has developed so much since we started Adventure Babies, from practising his fine motor skills trying to pick up the tiniest grain of rice to perfecting his gross motor skills crawling after the sensory toys and fibre optic lights.
​I am very happy and excited to be able to bring all of this to Warrington & Frodsham and share lots of sensory adventures with you.
Please come and say hello on my Facebook page or feel free to ask me any questions jorobertson@adventurebabies.co.uk
Read More
If a class has already started, don't worry, we won't charge you for the sessions that have passed.
1 Week Course | Start Date:
A wonderful community centre with plenty of free parking and only a short walk from the town centre. 0-8 month olds class is suitable for babies from birth up to 8 months old.…
Frodsham Adventure Babies. Frodsham Community Centre. Fluin Lane, Frodsham. WA6 7QN
Fluin Lane, Frodsham WA6 7QN, UK
Find out more or book
1 Week Course | Start Date:
St John's United reform Church is a large hall with plenty of free parking, close to Warrington Centre. 0-12 month olds class is suitable for babies from birth up to 1 year old.…
Warrington Adventure Babies. St Johns United Reform Church.
Wilderspool Causeway, Warrington WA4 6QE, UK
Find out more or book